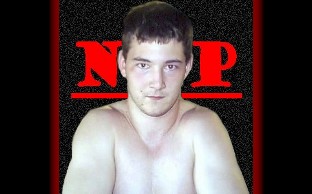 From: Detroit, MI
Height: 6'4" Weight: 220 lbs.
Finishing Maneuver: Air Raid Siren
Promotions Worked For:
Action Packed Championship Wrestling (APCW)
Atlas Championship Wrestling (ACW)
East Coast Championship Wrestling (ECCW)
New World Wrestling (NWW)
New Wrestling Horizons (NWH; now known as NWH/AWA North Atlantic)
North End Promotions (NEP)
Powerhouse Wrestling Of New England
Showcase Pro Wrestling (SPW)
South Coast Championship Wrestling (SCCW)
Top Rope Promotions (TRP)
Universal Championship Wrestling (UCW)
Yankee Pro Wrestling (YPW)

If there is one person who is quickly making a name for himself in North End Promotions, it's Leon Matthews. Leon Matthews made is debut into professional wrestling in December of last year, and has been in intense training since then to get better in his craft. At 6'4" and 220 lbs., Matthews is bigger than most in his cruiserweight/light heavyweight class, and his strength and power are overshadowed by his size and quickness. Since debuting in NEP, he has made one main rival, NEP standout and fan favorite, The Phoenix. The rivalry between these two started on January 21 of this year, with The Phoenix ganing an impressive victory.
However, the loss only motivated Leon Matthews to get that everlasting pinall against his arch nemesis. And on April 22, while working for Universal Championship Wrestling (UCW), he gained that victory that he ever so craved by defeating The Phoenix in a little over 18 minutes. The rivalry took an unexpected turn on May 27th, when Top Rope Promotions breakout star The Kreeper defeated NEP's The Phoenix in a match that will be remembered for quite some time... or so we thought. When the match concluded, The Kreeper, in an unexpected move, took off his mask and revealed himself... as Leon Matthews! At that time, Matthews gained the upper hand against The Phoenix but at "August Assault" faced off against an old tag team partner, "The Widowmaker" Eric Shred.
On December 17 of last year, they teamed up against The Locomotives (Freightrain & Big Cabbose, later known as Paul Hunter) in Matthews' first match of his career. The Locomotives were found victorious and the team of Shred & Matthews disintegrated as Leon found himself on the recieving end of Eric Shred's finishing maneuver that left him face down on the canvas. Eight months later at "August Assault", Eric Shred and Leon Matthews found themselves for the first time since December and in a very special Hair vs. Hair Match. Mathematically, he had the upper hand in the match with new manager Keith Danielz in his corner, but even that wasn't enough as "The Widowmaker" picked up the victory and was robbed of his dignity by having his head shaved in the center of the ring. Now, with a new found purpose, what will Leon Matthews do to bounce back?



Site Created By:
Tony S. (C) 2006-2008